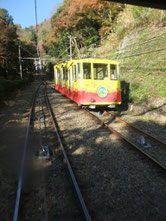 Mount Takao, or Takaosan, is a mountain in the western suburbs of Tokyo. Standing about 600 metres tall and located within an hour of central Tokyo (and inexpensive 381 yen by Keio Railway), it is a popular hiking spot (actually the most popular hiking spot in the world, according to Guinness Book of Records). As such, 2.5 million people visit here.
(*Personal advice: don't bother to come here unless you come early in the morning, if during the weekend of peak autumn colors season. There was already a line at 07:45, fifteen minutes before the first cable car departure).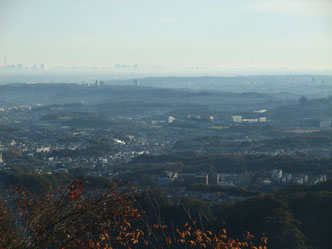 Visitors to Mt. Takao can choose to start climbing from the base, or take the cable car or ski-type lift ride halfway up the mountain. I took the cable car, which has the tightest climbing angle in Japan (and it was even a pain trying to stand uptight). Once halfway, the view over the Kanto Plains with Tokyo's skyscrapers afar was wonderful.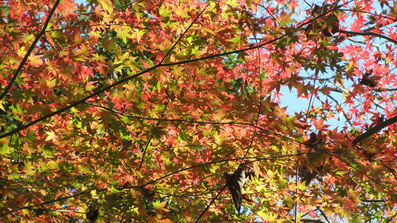 Although the maples (which are symbolic of Japanese Autumn) weren't quite ready, it wasn't hard to spot many trees with nice colors. 
(*There are about 7-8 hiking courses to and from the peak of Mt. Takao. I took Hiking Course No.1 through the Yakuo-in Temple to get to the peak, and Course No.4 through the woods to get back).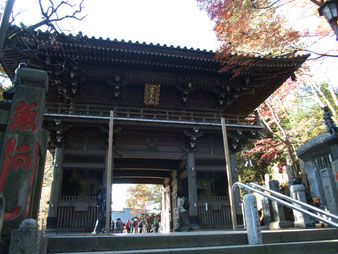 Mt. Takao is associated with the legend of Tengu, a supernatural being, or one of the gods of Shinto religion. Also, a Buddhist temple, Takaosan Yakuo-in, is located on the mountain and the whole mountain is considered its sanctuary. Its deity is Yakushi Nyorai, or Bhaisajyaguru (King of Medicine Master and Lapis Lazuli Light). The temple is believed to be founded in 8th century, but the current buildings dates back to 18th century.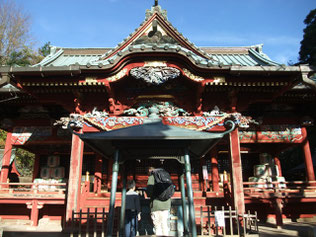 Shinto and Buddhism are separate religions, the former is original to the Japanese and associated with worship of nature and its gods (kamis), whereas the latter was introduced from India. 
Rather than discard the old belief system the Japanese tried to reconcile it with the new. 

Here we see a vivid example of the syncretism of kami and the the buddhas, as we enter the Shitoist Torii to approach this Buddhist Temple.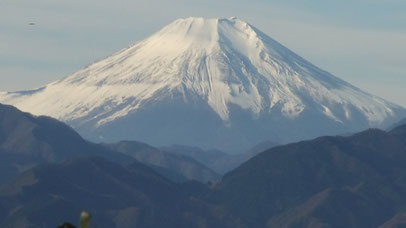 Approaching the peak, visitors are rewarded with a magnificent view of Mt Fuji. 
(*Do check the weather reports before you go. You may not be lucky to get this view, as Mt. Fuji is usually quite shy and hides away in natural mists and clouds).